2022 Resident Artist
Allie Tsubota
United States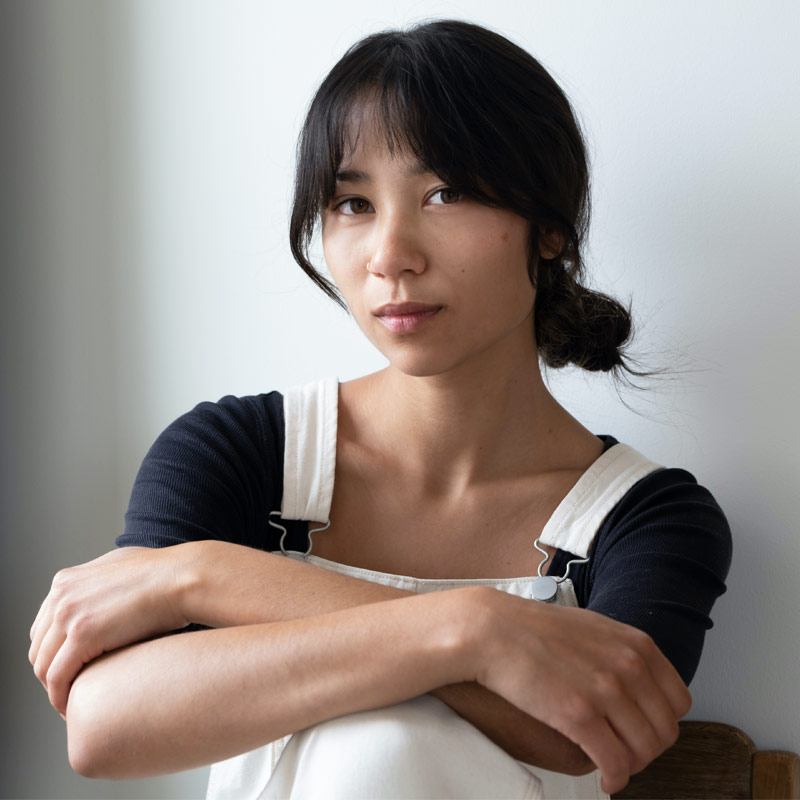 Allie Tsubota was born in 1992 in New Jersey, United States. She is based in Worcester, Massachusetts. After studying environmental studies and dance at New York University, she completed an MFA in photography at Rhode Island School of Design. In her research-based practice, she aggregates photographs, video, text, archival materials, and other elements, exploring how they interlink and the process by which meaning and memory are formed. Her interests lie in the history of the modern nation-state as well as racial diaspora and assimilation in the Asia-Pacific region, employing photography—a medium with a very unique temporality—to engage in the issue of re-presenting memories of a certain people's lived experiences. She pursues this by interpreting photography as a psychological, social, and public space. Tsubota's installations both invite the viewer to examine history as well as demand active involvement in history. During her residency at ARCUS Project, she will develop her ongoing work Dead Letter Room.
https://www.allietsubota.com/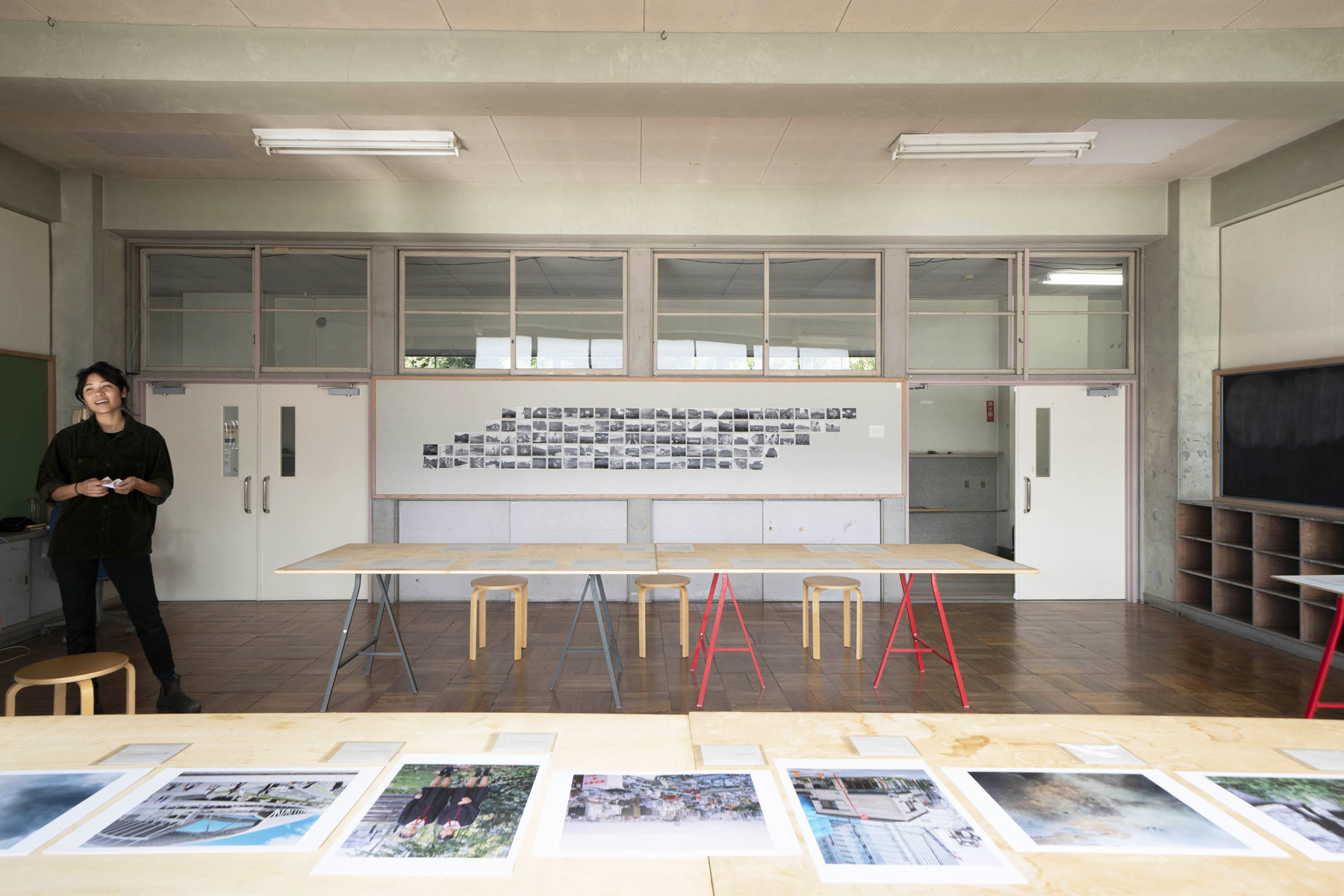 Dead Letter Room
Installation, 2022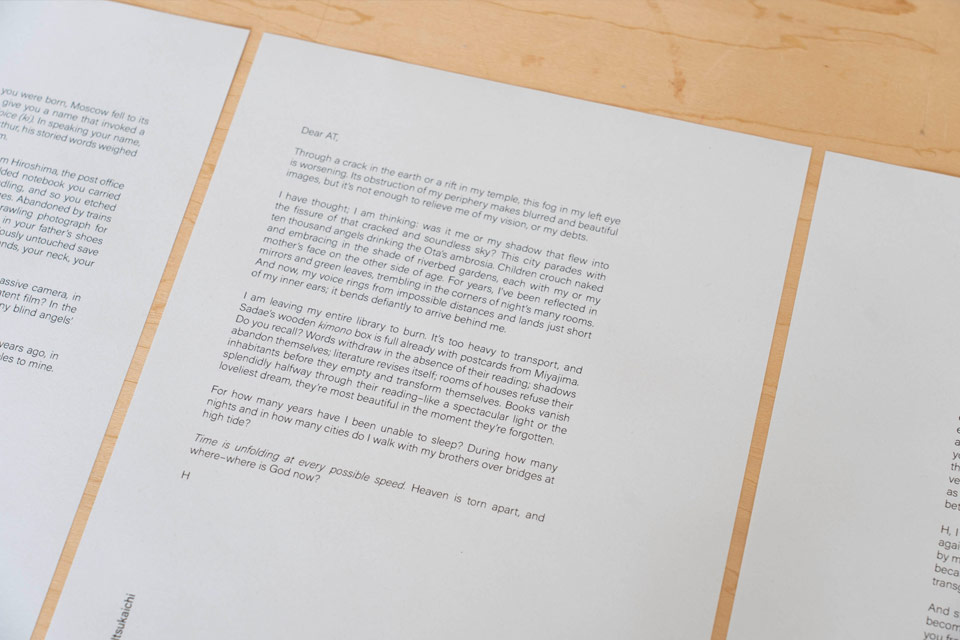 detail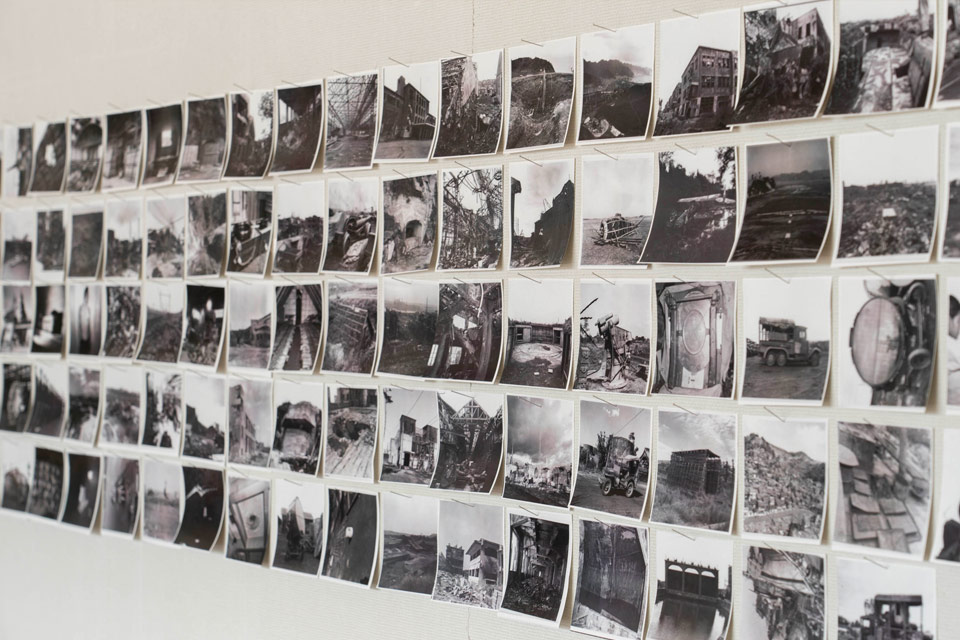 detail
Artist Statement
In October 1945, a team of U.S. Air Force photographers arrived in Occupied Japan to document the efficacy of Allied bombing on Japanese soil. Over several months, the photographers captured over 8,000 photographs, recording what was visible of the wrecked Japanese war economy and the hundreds of thousands of civilians left dead, disfigured, and disappeared. The survey, entitled the United States Strategic Bombing Survey (USSBS), became a critical component in the United States' postwar intelligence gathering, and it remains among the most extensive visual records of the ruins of nuclear war.

Six years later, in March 1951, Japanese poet Hara Tamiki laid himself down on the railroad tracks between Kichijoji and Nishi-Ogikubo stations, where he was struck and killed by the final train. As a witness to the rise of Japanese militarism and a survivor of atomic catastrophe, Hara was extraordinarily sensitive to the intimacies of war. His tryptich, Summer Flowers, about the bombing of Hiroshima, continues to be recognized as one of the most distinguished works of literature written by a survivor of the atomic bomb.

Over three months, I have been following the psychic, material, and literary traces of Hara Tamiki's life against the extant photographic legacy of the USSBS. I have photographed sites and archives in Hiroshima and Tokyo, while writing a series of fictional texts between myself and Hara. This research is meaningfully guided by Walter Benjamin's instructions for reading historically in "moments of danger." It contends with the arbitration of history, memory, spectatorship and language across transnational space and time.
Reason for Selection
Allie Tsubota aggregates photographs and texts in her work to build a relationship with an incident that happened in the past in a distant place. Though Japanese American, she is unable to speak Japanese. Nonetheless, in order to get closer to the memory of the Pacific War as experienced by the country of her family's roots, she engages in a kind of simulated correspondence with the novelist and poet Hara Tamiki, who was active in the prewar and immediate postwar period. As Hara, who wrote poems based on his experience of the atomic bombing of Hiroshima, exchanges works with Tsubota, who was born and raised in the United States long after the war ended, our interest is stirred by how that temporal and spatial divide is expressed. She is preparing for the project very carefully, investigating the archive of the United States Strategic Bombing Survey, which assessed the effects of strategic bombing during the Pacific War, and collecting photographic and filmic materials. I was impressed by the way in which she employs poetry and archives to search for the memories of war that exist between nation-states. (Ozawa Keisuke)
Comment for Open Studios
Allie Tsubota aggregates photographs, film, texts, and archives in her work to evince the outlines of historical memory. Motivated in part by her background as a fourth-generation Japanese American, Tsubota's work explores her interest in the relationships between people who migrated between modern nation-states as they developed in the Asia-Pacific region. Almost like embarking on a journey through the memories of others, she is also confronting the question of how we deal with memory, which fades with the passage of time.

During her residency, Tsubota has engaged with experiences of the Pacific War and the atomic bombings through the figure of Hara Tamiki, a Japanese novelist and poet active during the pre- and immediate postwar periods. Hara survived the atomic bombing of his hometown of Hiroshima and then died in Tokyo. Visiting the places that Hara lived as well as the Hiroshima City Central Library, where his letters and final writings are kept, and the site of his death on the tracks of the JR Chuo Line, Tsubota went in pursuit of the landscapes that Hara presumably witnessed during his life. She refined the concept for her work while talking with Hara's family and researchers, and learning more about him.

At Open Studios, visitors can view a slideshow of Tsubota's photographs of the sites she visited as well as photographs from the archive of the United States Strategic Bombing Survey, taken after the end of the war. In addition, the simulated correspondence between Hara and the artist is also on display. It is perhaps now impossible to know everything, yet that only makes us yearn to know all the more. From Tsubota's photographs and texts, let your thoughts roam amidst the memories that drift in the waters that divide two modern nation-states. (Ozawa Keisuke)