Moriya City and neighbor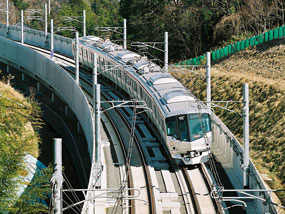 ARCUS Studio which is the base of ARCUS Project is located in Moriya City, the south part of Ibaraki. The population of Moriya is 65,000 (Moriya has a population of 65,000) and it is one of the closest towns to the center of Tokyo (40km from Tokyo, 30 minutes by Tsukuba Express Rapid train). Tsukuba Express opened in 2005 is the unique line which connects Akihabara, the center of Otaku culture and Japanese electronics and Tsukuba, the center of Japanese science and technology. Moriya station locates in the middle point of the line as the gate from/to Ibaraki.
Moriya City is surrounded by three rivers, Tone, Kinu and Kokai. It had been formerly a castle town and became a farm village after that. Since Tsukuba Express opened, the city has drastically changed as a commuter town for the business people working in Tokyo and a lot of new residential areas have been developed. At the same time, one can still find the quiet local farm landscape in the town which shows the sharp contrast with newly constructed area. Asahi Breweries, Ltd. has one of the factories in Moriya which produces 740 million bottles of beer in a year. Visitors can join the tour of the factory and beer tasting. Besides ARCUS Project, many art and cultural events are happened in Moriya and actibities of cultural circles are aslo active.
Southern Part of Ibaraki
Moriya City in which ARCUS Studio is located is the southern part of Ibaraki prefecture. In this region, a variety of artistic activities can be seen.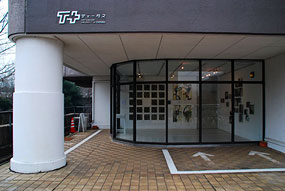 Photo credit: T+
Tsukuba City is the home to Tsukuba University which is globally known as the research center of Japanese Science and Technology and various research institutions in the field. Japan Aerospace Exploration Agency (JAXA) and High Energy Accelerator Research Organization are the best examples of those institutions. Tsukuba University has School of Art and Design with four major disciplines: Theory and History of Art, Fine Arts, Communication Art and Design and Design. Among the alumni, there are unique artists such as art unit Meywa Denki. The works of the students are on view at "T+", self-managed art space by the student group.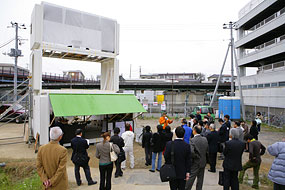 Photo credit: Toride Art Project "HARAPPA 2007"
Toride is the base of Department of Inter Media Art, Faculty of Fine Arts of Tokyo National University of Fine Arts and Music. Leading contemporary artists such as Katsuhiko Hibino, Motohiko Odani teaches the young students who will take the major role in future Japanese art scene. Toride Art Project is another highlight of arts in Toride City. The annual art project in November has received high reputation and awarded Ministry of Land, Infrastructure and Transport (MLIT) Prize in the Regional Development Award by MLIT as one of the best practices of the contemporary art which contribute to the regional development.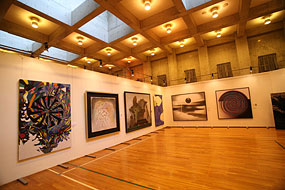 Photo credit: Ushiku Contemporary Art Exhibition
In Ushiku City which holds Ushiku swamp, many local artists are positively engaged in the creative activities. Annual exhibition series "Ushiku Contemporary Art Exhibition" is known as the exhibition of the works by those artists. Also, 120m high "Great Buddha" which is the highest Buddha statue in the world and "Chateau Kamiya", the first winery in Japan also attract the visitors with the fun surprise and discovery.
Museums and Art Scene in Ibaraki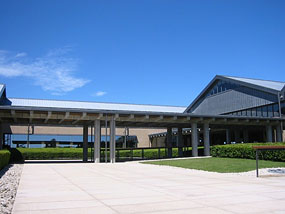 Tenshin Okakura (1863-1913) who played a key role in the establishment of Japanese modern art, moved to Izura coast area in Ibaraki after publishing his three books "The Ideals of the East" (1903), "The Awakening of Japan" (1904), "The Book of Tea"(1906). He aimed at rebuilding Nihon Bijutsuin (Japan Institute of Fine Arts) in Izura and invited his follower artists, Buzan Kimura, Shunso Hishida, Taikan Yokoyama and Kanzan Shimomura. Izura, the place described as "Oriental Barbizon" by Tenshin himself was an important part of the process which Nihon-ga (Japanese-style painting) became established as a genre of Japanese modern art. Collection of the Tenshin Memorial Museum of Art includes a number of first-class Japanese paintings by these artists. There are other places to visit around the museum: Nihon Bijutsuin site, Izura Institute of Arts & Culture, Ibaraki University (Rokkakudo, former house of Tenshin) and Tenshin's grave.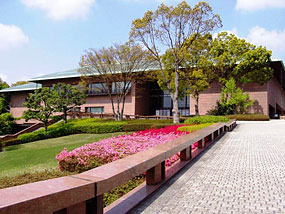 Located in Mito, the prefectural capital of Ibaraki, the Museum of Modern Art, Ibaraki collects and exhibits a number of modern art works of Japan and West including the artists, Taikan Yokoyama and Usen Ogawa who were associated with Ibaraki. On the site of the museum, there is a restored studio of the painter Tsune Nakamura, which was located in Shimo-Ochiai, Shinjuku, Tokyo. Tsune Nakamura (1887-1924) developed his own style of painting influenced by those western artists Rembrandt van Rijn, Pierre-Auguste Renoir and Paul Cezanne, and left remarkable works in the field of Yo-ga (western-style painting) during Meiji and Taisho era. Yaroshenko-Zo (Portrait of Vasilii Yaroshenko) (1920), one of his representative works is in the collection of National Museum of Modern Art, Tokyo as a national important cultural asset. Museum of Modern Art, Ibaraki houses Nakamura's selected works such as Ratai (Nude) (1916), Kiji no seibutsu (Still Life with Pheasant) (1919) and Calpis no tsutsumigami no aru seibutsu (Still Life with Wrapping Paper of Calpis) (1923).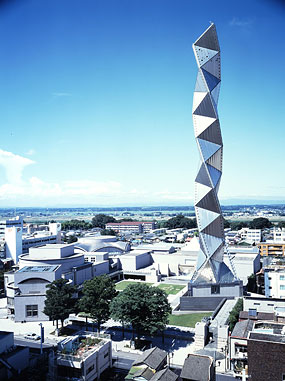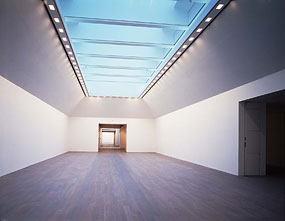 Photo credit: ART TOWER MITO Contemporary Art Center
ART TOWER MITO (ATM) opened in 1990, is the arts complex consists of the gallery, concert hall and theater. It is also known for the symbolic 100m-high tower as well as the surrounding buildings by the architect Arata Isozaki. Since its opening, ATM has organized various large-scaled special exhibitions in visual arts which feature the artists from overseas, such as Christian Boltanski, Christo, Jenny Holzer, James Turrel, Daniel Buren, Ilya Kabakov, Calude Lèvêque and so on. Other exhibition includes "Ground Zero Japan" guest-curated by arts critic, Noi Sawaragi in 1999 or "The Door into Summer: The Age of Micropop" by Midori Matsui in 2007. There have been the exhibitions which introduce contemporary Japanese art such as "Tadashi Kawamata DAILY NEWS" (2001), "Kokuren Shonen (UN BOY)" by Noboru Tsubaki (2003), and "Tatsuo Miyajima | Art in You" (2007) with critical point of view. ATM is also actively engaged in exploring subcultures in Japan. "The Chronicles of KAIYODO" (2005) showed the world of KAIYODO, the plastic model maker. "X-COLOR/Graffiti in Japan Exhibition" was the first large-scaled exhibition on the graffiti culture. The solo exhibition series "CRITERIUM" which features the works of emerging artists in Japan now counts more than 70th show and has attracted the attention of the public. ATM has produced those talented curators such as Eriko Osaka, Yuko Hasegawa, Tsukasa Mori, Toshihiro Asai and Kenji Kubota. With Yuu Takehisa, it is one of the museums which have the rich group of cutting-edge curators in Japan.
In neighbor of ATM, there are several art spaces which are small but show unique activities. "Mito –no Kiwamari-so" is an alternative space ran by artists. These spaces also contribute to build the arts scene in Mito.